Bienfait Public Library
414 Main Street
P.O. Box 520
Bienfait, Sk. S0C-0M0

Phone: (306) 388-2995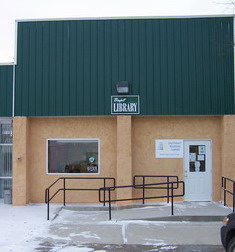 Welcome to our web site!

Our Library moved to a new location on Dec. 1, 2003, next to the Bienfait Town Office. After major renovations to the old fire hall, we moved to a new modern facility and are looking forward to serving the people of Bienfait and surrounding areas with a much improved library service. A big "thankyou" goes to the councils of the Town of Bienfait, and the RM of Coalfields #4, as well as many volunteers, for their co-operation in getting us moved to a better facility.
Read about the history of the Library in Bienfait, check out our services that are available, meet our staff and board members, find out about present and up-coming programs that will be happening, as well as fund raising projects.
LATEST NEWS AND EVENTS
Kids Klub
Every Wednesday morning at 11:00. Drop in and check out our crafts and reading activities.
SCRAPBOOKING PROGRAM
THE PROGRAM IS BEING HELD THE SECOND TUESDAY OF EACH MONTH AT 7:00 P.M. BEGINNING IN FEBRUARY. CONTACT MARILYN RIBLING AT 634-7480 FOR DETAILS
BOOK DELIVERY FOR SENIORS AND SHUT-INS
Please inquire at the library about this service (388-2995) or call Marilyn @ 634-7480.
PRINTER CARTRIDGES
Please continue to recycle your printer cartridges for the Bienfait Library. As well as doing the environment a favour, the library makes a small profit from collecting them. Bins are placed at the library, the Bienfait town office, the RM of Coalfields office, the Bienfait Credit Union and the ARP Drugstore at the Estevan Mall.